Stream Deck & Korg Kronos
You can download a copy of my Kronos profile for Stream Deck for FREE! Check the links below.
I recently started working on a new sound pack for my old friend, Korg Kronos. It's 11 years old but still powerful. However, the user interface is pretty outdated now. Plus, the angle of the screen makes it very hard to spend long hours in front of it. So I tried using the software editor on my mac but to be honest it is one of the worst editors I've ever seen. And it is missing some of the critical functions like "copy from program" etc. So you have to keep juggling between the editor and Kronos and at one point things get messed up because of the differences in the buffer and Kronos… So annoying so I stopped working with the Kronos Editor and went back to old-school editing on Kronos's screen.
However, I need to use my computer at the same time; I have written many macros and scripts to speed things up on Logic Pro. So the computer keyboard and my Elgato Stream Deck are the two devices I need to keep my hands close to trigger those macros. In order to minimize the time I spend switching between Kronos and Mac I decided to share the computer keyboard and Stream Deck in-between them.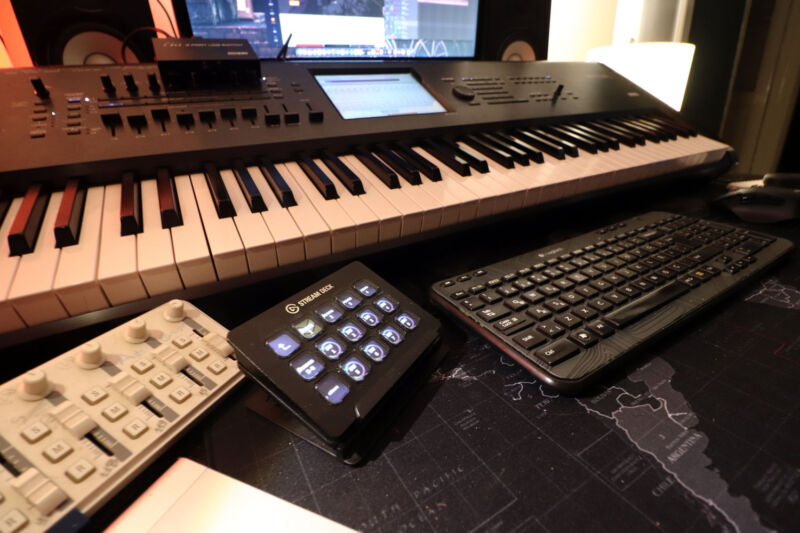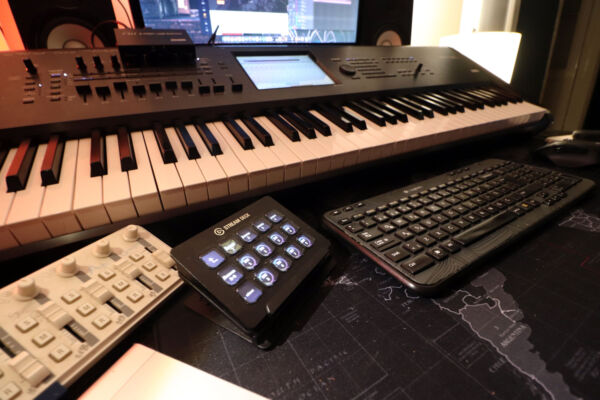 QWERTY Keyboard + KVM Switch
Sharing the QWERTY keyboard was the easy part; I had an old 2-port KVM USB switch so I connected it to both Kronos and Mac, and plugged the wireless receiver of my QWERTY keyboard into the KVM switch, and Voilà! Now with a push of a button, I can quickly type names on Kronos and jump back to Mac again.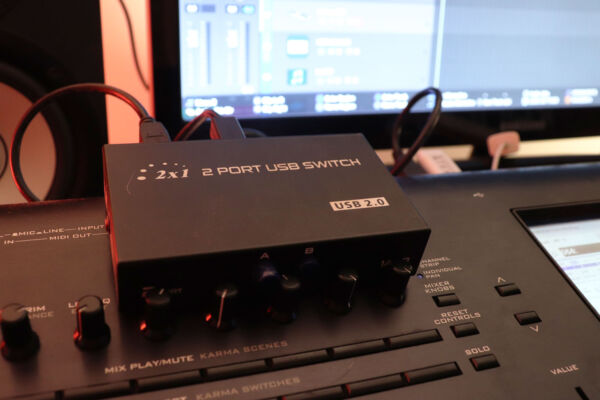 Stream Deck
With the Stream Deck, I send Sysex and Midi messages to Kronos for things like Karma Scene Changes, Solo/Mute functions, Chord Pads, etc… It took some time to figure out the Sysex messages I need but it ended up being really useful. I even created a simple macro to automate the process of preparing the Karma modules for scene changing! And just watching it feels amazing! More on this below… Value Increase/Decrease buttons are really useful while changing presets. The buttons on the Kronos are so clicky and they are hard to press after many years of usage/dust. Now I can quickly create many scenes quickly with the smooth buttons of my Stream Deck. And the best part is that Sysex messages don't require me to change the page on Screen; meaning I can be on the Mixer page and still change parameters of Karma or Drum Track etc…
Magic Macro
Here is the macro I mentioned above in action. If you have created combis in Kronos you are probably familiar with the Karma scenes method which is actually a very weird workaround for a simple task. You need to set up a bunch of settings in the "PERF RTP" tab on the Karma page just to divide the Kronos into four modules. You can of course copy those settings from another combi but then it requires diving into menus on the touchscreen which I try to omit as much as possible. My "Prepare Karma Scenes" button on Stream Deck automatically presses every necessary button to get it working. Here is what it does in order:
Checks A, B, C, D for the first 4 rows on "Perf RTP" tab
Assigns Sw1-8 to each row – Selects "Key Zones" from Group menus for each row
Turns off the "Run" boxes on GE Setup tab
Changes "Module Control" to "Master"
Changes "Control Surface" mode to "RT Knobs/Karma"
Turns Karma On
After this, I can directly start building scenes with the switch and scene buttons I made on Stream Deck. How simple is that?!
How to Install?
DOWNLOAD:
Follow the link to download:
INSTALLATION – STREAM DECK:
BEFORE LOADING the profile please install the free "Midi" plugin from the Stream Deck Store inside the app. It is from the author "Trevliga Spel". After you install the plugin you can double-click the profile file you downloaded to load it. No further setup is needed on the Stream Deck side; just be sure that Midi OUTPUT ports of buttons are selected as "Kronos SOUND", it comes already selected but you can check one of the buttons just to be sure.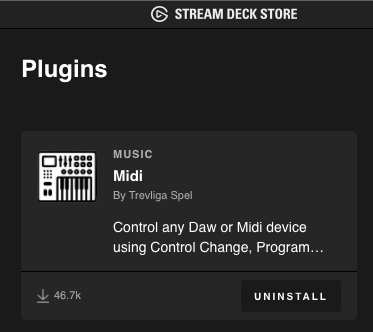 INSTALLATION – KORG KRONOS:
While most of the buttons are Sysex messages, a few of them are midi cc messages for easier use (like Karma Scenes and Switches, Increment/Decrement buttons) so you need to set up corresponding cc messages on Kronos.
Go to GLOBAL mode, and under the Controllers/Scales Page and Controllers tab;
set "SCENE" as CC#030
set "SW1" to "SW8" as CC#046 to CC#053 (like SW1: 46, SW2: 47, SW3:48…)
set Chord Pads as C-1, D-1, E-1, F-1, G-1, A-1, B-1, C0
Under the "Function Assign" tab;
set "VALUE INC" to ch11 and CC#002
set "VALUE DEC" to ch11 and CC#003
*Note: You can not directly connect the Stream Deck to Kronos. Kronos and Stream Deck should be connected to your computer via USB. You need the Stream Deck app installed on your pc/mac.